Ryde Pier celebrates 200 years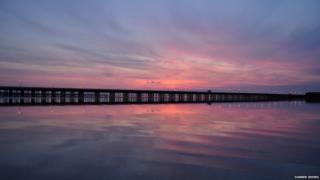 The 200th anniversary of Britain's oldest seaside pier is being celebrated this weekend.
Ryde Pier on the Isle of Wight opened on 26 July 1814 and paved the way for others, from Dunoon on the Firth of Clyde to Falmouth in Cornwall.
Piers became a staple of British seaside holidays alongside fish and chips and Punch and Judy shows.
Ryde councillor Wayne Whittle said: "It's an important part of the island and long may it reign."
First And Last
Designed by John Kent of Southampton, the foundation stone of Ryde Pier was laid on 29 June 1813 and opened a year later.
A tramway pier opened alongside on 29 August 1864, with trams initially pulled by horses - before the advent of electric traction.
The adjacent railway pier opened on 12 July 1880.
Trains still leave from the pier-head and ferries maintain a regular service from the 703m (2,305ft) pier to Portsmouth harbour.
Pleasure piers, as they were known, were magnets for British holidaymakers before the boom in international travel.
Derek Tomlinson, volunteer co-ordinator at the Historic Ryde Society, fondly remembers the Grade-II listed pier when it was a mainstay of the area.
He said: "In the 1950s and 1960s, the use of the pier was phenomenal.
"It's half a mile long and at times you would have people queuing for the boats.
"There was a ballroom known as the Seagull, a cafe, rock shops and amusements to keep everyone entertained.
"On part of the Seagull, there was a pub called the First And Last. It was called that because it was the first pub you would go to when you arrived and the last as you left."
Mr Whittle said: "It's a great attraction, which people sometimes forget is the gateway to the Isle of Wight."
At the turn of the 20th Century about 100 piers existed around Britain's coastline, but due to the boom in cheap foreign flights those numbers have halved today.
Ryde is no longer regarded as a pleasure pier and it has lost its Victorian buildings - after poor upkeep resulted in the demolition of the pavilion in 1971.
But it survives as a feat of Victorian engineering.
Ryde Social Heritage Group volunteer Carol Strong said: "It has made Ryde what it is today."
An all-day party will be held on the pier on Sunday to mark the anniversary.