Samuel Etherington's appeal to be reviewed by Court of Appeal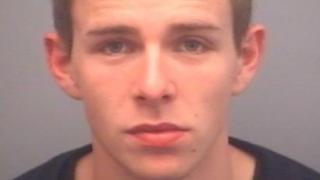 A man jailed for killing two teenagers while driving under the influence of drugs is to have his sentence reviewed.
In February Samuel Etherington, 20, was jailed for nine years for causing death by dangerous driving.
Jasmine Allsop, 14, and Olivia Lewry, 16, died when they were hit by Etherington's Honda Civic in the early hours of 3 November in Gosport, Hampshire.
The Court of Appeal will consider whether the sentence was appropriate.
At the time of the case, the court heard Etherington had been taking the drugs ketamine and mephedrone before the accident.
His car hit Jasmine and Olivia near the junction with Brougham Street at a speed of 65mph (105km/h) in a 30mph residential area.
Jasmine, who lived yards from where the crash happened, died at the scene while Olivia was taken to Portsmouth's Queen Alexandra Hospital where she later died.
Prime Minister David Cameron has previously indicated there should be a review of sentences passed for causing death by dangerous driving.
Gosport MP Caroline Dinenage has called for a review of the maximum sentence for the charge, which currently stands at 14 years.