Rogue trader Paul Gaffney jailed for nine years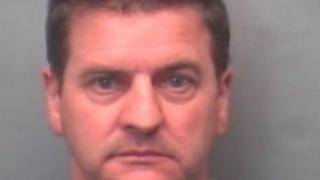 A rogue builder who scammed customers out of more than £100,000 has been jailed for nine years.
Paul Gaffney, 51, from Park Grove, Portsmouth, admitted 20 fraud related offences against 17 victims.
He had ripped off elderly residents around the city with "shoddy" and substandard home repairs.
Passing sentence at Portsmouth Crown Court, Judge Sarah Munro described him as a "professional, plausible and devious conman".
A year-long investigation into Gaffney's activities by police and Portsmouth City Council's trading standards department began when he was first reported in March 2013.
'Substandard and faulty'
The court heard how many of those he had targeted were elderly and he bullied them over work on boilers, electrics and roofs.
The council said Gaffney's "shoddy or fraudulent work" had put customers' safety at risk.
Retired architect Peter Bolt was approached by Gaffney offering to fix some roof tiles at cost price.
He then went on to suggest 12 more repair projects on the house, each time asking for cash up front, totalling nearly £35,000.
"He was so convincing and plausible - one thing led to another. At least it will be a warning to other people," he said.
Det Con Andy Larder said: "Paul Gaffney targeted vulnerable members of our community, convincing them to pay money for substandard and faulty work.
"He went out of his way to ensure they paid him, even offering to drive them to the bank.
"We would continue to encourage anyone who is unsure about a door-to-door caller not to hand over any money or allow the person into their home."
A total of 17 Portsmouth residents were conned out of £105,000.
Judge Sarah Munro said many of his victims had been affected "physically, psychologically and financially".