Andrew Lloyd Webber gamekeeper fined over owl death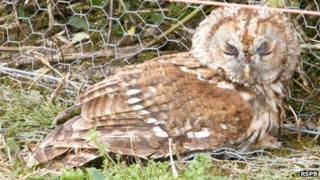 A gamekeeper on a Hampshire estate, owned by Lord Andrew Lloyd Webber, has been fined for trapping a tawny owl.
Self-employed Mark Stevens, 42, who worked on the composer's Sydmonton Court estate near Basingstoke, admitted setting a trap incorrectly.
The owl was discovered at nearby Ecchinswell in August 2013, with a leg caught in a spring trap. It had to be put down.
Stevens was fined £1,365 by Basingstoke magistrates.
The Crown Prosecution Service said the way Stevens had set up spring traps on a pole, without any adequate cage, posed a "serious risk of harm" to birds of prey.
The traps had been set to catch a grey squirrel which had been targeting the pheasants' food and had not been intended to catch birds.
Stevens pleading guilty to two offences under the Pests Act 1954 the Spring Traps Approval Order 2012.
The traps had not been set on the Sydmonton Court Estate, Richard Atkins, Stevens' solicitor said after the case.
Mr Atkins said Stevens was not a member of staff of the estate but carried out gamekeeping duties on a self-employed basis.
"Everyone who knows him accepts that this was an accident," he said.
'Horrific injuries'
Mark Gammon, senior crown prosecutor, said the tawny owl had probably been held in the trap for several hours when it was found by a passer-by.
"It was hanging head down, from a post on the corner of the pheasant pen, about two to three inches from the floor.
"This undoubtedly caused a measure of pain and suffering to the bird," he said.
Guy Shorrock of the RSPB said: "Spring traps are routinely used to control small mammals and an experienced gamekeeper like Mr Stevens should know exactly how to use them properly.
"Whatever his intention, the fact remains a tawny owl was caught in an illegal trap and suffered horrific injuries."