Cowes Week sailing regatta begins on Isle of Wight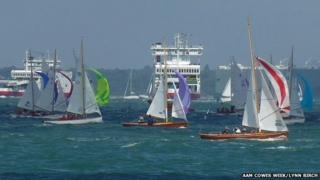 Cowes Week, one of the oldest and largest sailing regattas in the world, has begun on the Isle of Wight.
More than 100,000 visitors are expected to attend events on the island and in the Solent until 9 August.
The regatta, founded in 1826, attracts up to 1,000 competing vessels and about 8,500 competitors.
Live music and activities will continue in and around Cowes throughout the eight days of the regatta.
On Tuesday, the centenary of the first shot at sea in World War One will be marked with a sail past by Royal Navy patrol vessel HMS Mersey.
A single cannon will also be fired by the Royal Yacht Squadron at 10:00 BST ahead of a one-minute silence.
The Red Arrows will make an appearance on Friday and there will also be displays during the week from the RAF Eurofighter Typhoon.