Fratton Park Tesco bid to go before Eric Pickles after approval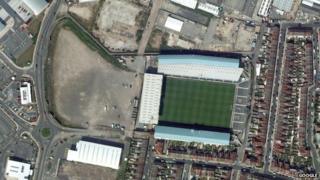 Plans to build a Tesco store behind Portsmouth Football Club's Fratton Park will need to go before the Secretary of State after being approved.
Developer Point Estates wants to build a 10,475 sq m store on Fratton Way.
The city council's planning committee conditionally approved the plans which are expected to create more than 300 jobs when it opens in 2015.
More than 4,000 people said they were against the plans, which also include a petrol station.
Money from the scheme would be used for improvement works at the club, which spent 14 months in administration.
Because it is a large retail development outside a town centre, the Secretary of State for Communities and Local Government, Eric Pickles, needs to be informed if councillors intend to approve the plans. He has 21 days to decide whether to call in the application.
Opponents say it would add to congestion, create hazards for pedestrians and cyclists, and impact on small independent retailers.
The club said 90% of people supported the store and proposed improvements to the ground.