New Forest cycle hire scheme 'inappropriate'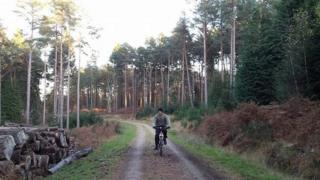 "Major anti-cycling sentiment" in the New Forest means a cycle hire scheme would not work, a working group has warned.
The New Forest National Park Authority is considering introducing cycle docking stations and up to 250 bikes.
But a report by the group said there was "insufficient confidence" the bikes would be "financially sustainable or receive sufficient local support".
A cycling event was sabotaged in April by people throwing tacks on the track.
Fifteen cyclists suffered punctures at the Spring Sportive, which attracted more than 2,000 cyclists.
'Wave of concern'
The Department for Transport provided £3.6m towards promoting sustainable transport in the New Forest National Park in August 2013 which must be spent by March.
But John Lynn, the cycling projects manager, said: "A fresh wave of concern exists about the safety of on-road cycling.
"Members therefore questioned whether the time was right to introduce more cyclists on to New Forest roads."
He added that the chance of significant sponsorship was cut after sponsors of the London Cycle Hire scheme, dubbed "Boris bikes" after the city's mayor, did not renew their contract.
The recommendation was unanimously supported by all who attended the liaison group's meeting.
The authority will discuss the findings on Tuesday.
Meanwhile, a petition set up in support of the scheme has attracted more than 900 names.