Kurds gather in Portsmouth in aid plea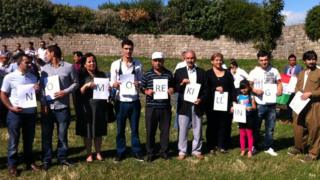 A group of Kurdish people has gathered in Portsmouth to raise awareness of the ongoing crisis in northern Iraq.
They came with banners protesting against the Islamic State, whose violence has driven an estimated 1.2 million Iraqis from their homes.
Baz Majid, 33 said: "We all have family and relatives over there, so we are asking the British people for more help."
There are an estimated 2,000 Kurds living in Portsmouth.
The community gathered at Southsea Common, where there is a Halabja memorial, dedicated to the victims of Saddam Hussein's attack on the town in 1988.
Haidr Kamaren was 11 years old when chemical bombs were dropped on men, women and children living in the town near the Iraq/Iran border.
Mr Kamaren, whose parents, brother and sister were killed in the attack, said: "We find ourselves a victim of genocide, so we know how painful it is.
"We came to here to argue [the government] do more action to prevent another genocide."
Omid Penjweny, also at the event, said: "The Kurdish community came together today to show solidarity and support for the Kurdish people in Kurdistan in their battle against Isis."
Foreign secretary Philip Hammond has said the UK would "consider favourably" any request for arms from the Kurds in their battle with the extremists in Iraq.