BAE Systems ends shipbuilding in Portsmouth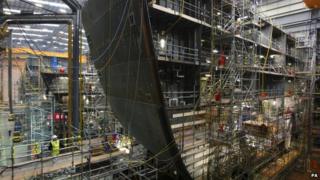 Shipbuilding in Portsmouth has come to an end after the yard's final project - a giant section of the navy's new aircraft carrier - was completed.
BAE Systems announced last year that 940 posts and 170 agency staff would go at its yard.
It said the cuts were necessary because of a drop in work after the aircraft carriers were finished.
About 470 workers took voluntary redundancy and there have been 75 compulsory redundancies.
However, the company said more than 150 workers had been found new roles.
Prince of Wales
A spokesman said it was continuing to work with the remaining staff to retrain or redeploy them to other positions in BAE Systems or to find jobs with external companies.
"We are committed to continuing our extensive efforts with our trade unions, employees and external stakeholders to explore all potential opportunities for further mitigation to minimise the need for compulsory redundancies," he said.
The final project was a section of the hull of the HMS Prince of Wales carrier, which is due to be launched in two years.
The piece weighed 6,000 tonnes and was moved out of the shipyard on 2,000 wheels.
It will now be welded to a barge, before being taken from Portsmouth to Rosyth, Scotland, where the carrier will be assembled.
The Portsmouth shipyard will be handed back to the Ministry of Defence by the end of the year.
A number of companies have expressed an interest in using it.