Isle of Wight teen finishes sail and walk for charity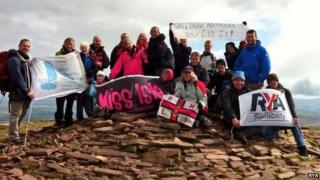 A teenager with cerebral palsy has sailed 400 miles around the south of Britain and climbed a Welsh peak.
Natasha Lambert, from Cowes, Isle of Wight, sailed from Cowes to Swansea, south Wales, and climbed Pen Y Fan.
The peak is the highest in southern Britain and she climbed with the aid of a special walker.
Ms Lambert's mother, Amanda, said her daughter didn't want to leave her boat, which she controls by sipping or puffing on a straw.
Natasha, 17, set off from Cowes in her 21ft (6.4m) Miss Isle Too on 24 July in the month-long, 430 mile charity trip around the south-western tip of the UK.
Her father, Gary, designed a motorbike helmet which allowed Natasha to sip to move starboard or puff to move port.
The teenager sailed around the Isle of Wight in 2012 and across the English Channel last year.
'Elated, proud, chuffed'
Natasha and her support team, including her mother, father and younger sister Rachel, reached Swansea on Tuesday and completed the 2,907ft (886m) climb in the Brecon Beacons on Friday morning.
Mrs Lambert said: "When we got to Swansea I asked her if she was happy to get here and she said it was bittersweet.
"She is happy to reach Swansea but she wants to carry on.
"We were told years ago that Natasha's life would be different but we didn't expect anything like this. It's spectacular."
Her father Gary said they were "exhausted, elated, proud, chuffed and impressed".
Natasha hopes to raise £15,000 through the Sea and Summit challenge for the RNLI, the Ellen MacArthur Cancer Trust and the RYA Foundation.