Winchester City Council approves homes plan for park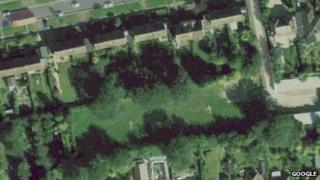 Residents in Winchester have criticised the city council for approving a plan to build homes on the "only small piece of green land left" in their area.
Councillors approved the plan for 12 council homes on a public park off Westman Road in the St Barnabas suburb.
Mother-of-three Jessica Klingsheim said she was "very upset" at the decision as children used the park regularly.
The council said the plan was part of a major development to provide more affordable homes in the city.
'Very concerned'
Winchester City Council received 39 letters of objection.
City of Winchester Trust said it was "very concerned by the loss of another recreation space".
The council's head of landscape was also against the plan and said St Barnabas already had a 3.77 hectare (9.3 acre) shortfall of parks and 2.42 hectare (5.9 acre) shortfall of play areas under landscape planning policies.
Mrs Klingsheim said: "The only local space for the children to play football after school and during holidays is this small green field, which has two goalposts and basketball net."
Councillors said site visits showed the park was little-used, but Mrs Klingsheim said visits were made when children were at school or dog walkers were at work.
She added: "My children use the park all the time and it is used a lot by teenagers who in the summer have been using it nearly every night".
The council said the provision of "12 affordable homes to meet a local need is considered to outweigh the loss of open space in this instance".
The council approved plans two years ago for 2,000 homes to be built on nearby Barton Farm.