Southampton Central Bridge structural problems found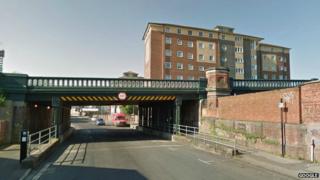 Engineers say the underlying condition of Southampton's Central Bridge is much worse than originally thought, prolonging repair work.
Maintenance work began at the end of March, with plans to close the bridge for 24 weeks until early September but work will continue until November.
The city council said unforeseen structural problems were uncovered after the road surface was removed.
The 130-year-old bridge links the city centre to the Itchen Bridge crossing.
Southampton transport councillor Jacqui Rayment said: "The bridge is over 100 years old, so the original drawings that we've been working to have been superseded by improvements and fixes that had not been documented, could not have been foreseen and have thrown up some challenges for our engineers.
"Once we finally removed the road surface, we've been able to add the waterproofing layer to secure the bridge structure for the future and are now working to rebuild the carriageway, including the extension of the Woolston-City Centre Eastern Cycle Route."
The work on the bridge, which crosses the Southampton Terminus railway line and Royal Crescent Road, is part of a £2.4m government-funded scheme to improve "pinch points" on the city's transport network.