Skeleton mask raider threatens Havant shop worker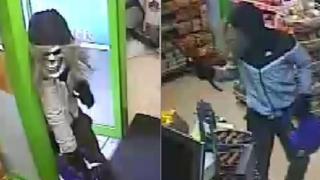 A man wearing a skeleton mask and armed with a walking stick tried to rob a convenience store in Hampshire.
The raider burst into the Best One store in Havant, Hampshire, shortly after 09:45 BST on Monday and demanded cash.
He threatened a 34-year-old female employee, but fled with nothing.
The man was last seen heading down a nearby alleyway on a bicycle. He is described as being in his late teens or early 20s and about 5ft 7ins.