Ashya King 'comfortable' in Spanish hospital after reunion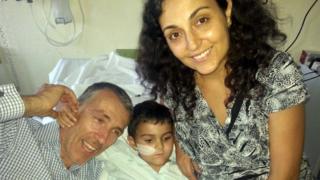 Ashya King has spent a comfortable night with his mother at his bedside in a Spanish hospital, officials said.
The five year old, who has a brain tumour, is expected to see a cancer specialist later at Materno-Infantil Hospital in Malaga.
His parents Brett and Naghemeh King saw their son on Wednesday for the first time since their arrest.
The couple were freed from custody in Madrid on Tuesday after UK prosecutors withdrew a European arrest warrant.
The parents, who sparked a search after fleeing from Southampton General Hospital in search of treatment, want Ashya to have proton beam therapy.
A fundraising page set up to help pay for the treatment has so far raised more than £21,000.
Charity Kids'n'CancerUK said it had agreed to pay the £100,000 needed for Ashya's treatment, plus living costs, after donors pledged £35,000 in 24 hours.
But the Kings are unable to make a decision on his future treatment while he is a ward of court.
Donna Jones, leader of Portsmouth City Council, which made the application for the wardship order on Friday, called for the situation to be reviewed "urgently".
It is due to be reviewed on Monday.
A Judicial Office spokesman said previously the Kings would have "an opportunity to be represented and put forward their proposals for Ashya's treatment" at the hearing.
Daniel Perez, a health delegate for the regional government of Andalucia, said Mr and Mrs King were happy with the treatment he is receiving at the Spanish hospital.