Attacked Ryde lifeboat back on the Solent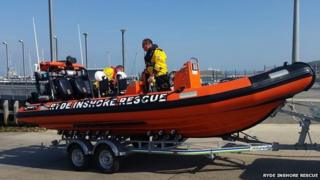 A lifeboat has returned to service six weeks after it was found to have been slashed at its base on the Isle of Wight.
RR1 was one of two rigid inflatable boats found damaged inside a fenced compound at Ryde on 22 July. RR2 is expected back in three weeks.
Local businesses helped raise almost £11,000 to help repair the craft.
Coxswain Adrian Farrell said it had been a "frustrating" time for the volunteer crew.
A relief boat was used while the two boats were out of service.
Run by volunteers, Ryde Inshore Rescue is coordinated by HM Coastguard at Lee on the Solent.
It covers an area between the seaside resort of Seaview, Osborne Bay and part of the Solent.
The service said it rescued or assisted 97 people last year.