Mary Rose scientists to investigate site 'damage'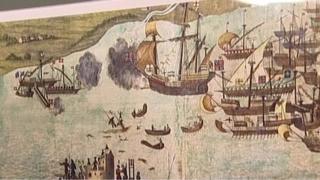 Scientists are to investigate possible damage to monitoring equipment at the site of the wrecked Mary Rose warship in Portsmouth harbour.
Maritime archaeologist Christopher Dobbs said anchors or fishing gear could have disturbed data loggers placed at the site a few months ago.
Most of the ship is on display in Portsmouth but pieces of the bow and other artefacts are buried in silt.
Mr Dobbs said there were "treasures" still buried underwater in the Solent.
The Mary Rose Trust has issued a reminder to people using Portsmouth Harbour to be wary of the site.
Specialist equipment which monitors the site has stopped working and Mr Dobbs, from the Trust, said: "It would damage the site and our experiments if things are dragged on the seabed, whether it's anchors or fishing gear.
"We want to make sure the equipment is alright, do further checks to make sure nothing is being eroded away or dragged away either by biological causes or human causes."
A 984 ft (300m) exclusion zone is in place around the site and it is well marked on charts and a large yellow and black buoy covers it.
The 16th Century warship was discovered in 1971 and it was raised from the seabed in 1982.
The dive is due to go ahead on 22 September.