New Forest alternative cycle plans considered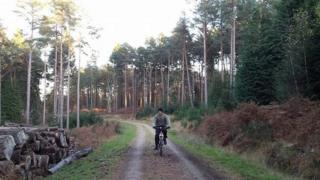 Revised plans will improve cycling in the New Forest, despite the rejection of a "Boris" bikes hire scheme, the National Park Authority (NPA) has said.
The Department for Transport (DfT) has provided £3.6m for sustainable transport in the New Forest National Park, which must be spent by March.
The NPA is due to discuss "alternative projects" and an extension with the DfT.
Pedal bus plans and a family cycling centre have also encountered problems.
In August NPA members voted to abandon the £2m bike hire scheme, similar to the one introduced by Boris Johnson in London, after a report cited "anti-cycling sentiment" in the forest.
Among other initial proposals to spend the grant, the NPA said a plan for 15 "pedal buses" had run up against "legal and operational challenges" in operating on public roads.
A commercial partner for a proposed Family Cycling Centre at Brockenhurst has pulled out.
NPA member and Lib Dem county councillor David Harrison, who had championed the hire scheme, said: "The Boris Bike scheme is dead. But now it's a case of trying to make sure this money is used locally.
"I'm hopeful there are other ways of improving cycling for people living in, and visitors to, the national park."
He said work on routes at Rhinefield, between Lyndhurst and Brockenhurst and in central Ringwood was being considered.
£50,000 has also been earmarked as a contribution to a proposed Totton-Marchwood link.
The existing Lyndhurst to Ashurst cycle path is due to be upgraded later this year and £381,000 has already been given in grants to improve local cycling facilities.
A NPA spokeswoman said: "We are still hopeful of spending all the grant and will be discussing timelines with DfT."
The authority is due to hold a meeting with Department of Transport officials to discuss the alternative plans on Wednesday.