Southsea 'cannabis picnic' 'was success'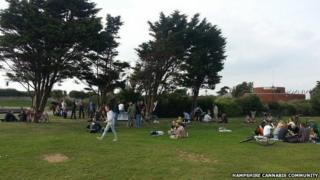 Organisers have hailed a "cannabis picnic" in Southsea, aiming to raise awareness of the drug's "benefits", as a success.
The event on Saturday, which about 50 people attended, was devised by Hampshire Cannabis Community.
Organiser Simon Dignam said: "It was brilliant. There was no trouble at all. It was a great day."
Dr Janet Maxwell, director of public health for Portsmouth City Council, had warned people to "steer well clear".
She said: "We have to keep bringing home to people that the long-term effects of this drug are really damaging.
"Anything that encourages [drug use] and plays to particularly vulnerable youngsters could be harmful."
'Family event'
The group, which believes the class B drug should be legalised, said many people were unaware of its medicinal purposes.
Mr Dignam described the picnic in Castle Field, Southsea, as a family event, with several people bringing children.
He added: "It got the word out a little bit; that's all I wanted to do. If half a dozen people Googled it then that's OK.
"I'm not surprised it caused a stir, it's cannabis."
Hampshire Constabulary said it was not ready to comment.