Woolston Wastewater Treatment Works: Construction begins on £63m scheme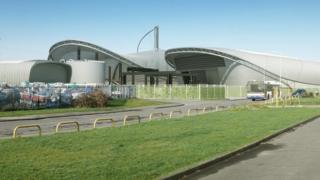 Work on a water treatment site aimed at 'significantly reducing smells' in a part of Southampton begins next week.
Southern Water is to develop the Woolston Wastewater Treatment Works in phases after it was granted permission for the £63m scheme in July.
A temporary works site will be built first to treat waste water before parts of the site are demolished.
Once the temporary work is completed, construction of the new treatment plant is scheduled to begin in mid-2015.
The temporary works will be constructed on land next to the current works site in Victoria Road.
Southern Water said the temporary facility would unlock land for the continued development of Centenary Quay, where 1,600 new and affordable homes are being developed.
Warwick Payne, Southampton City Council cabinet member for housing and sustainability and a Woolston ward councillor, said: "This project will be very welcomed by the residents of Woolston who I know are keen to see a new more efficient and less pungent facility on site."
Southern Water said the project aimed to "significantly reduce smells coming from the works" and ensure treated waste water leaving the site met new environmental standards set by the Environment Agency.