Hampshire police village green complaint upheld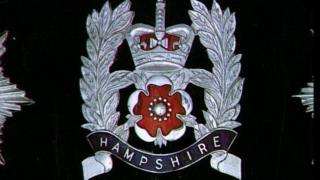 A complaint against Hampshire police about how they dealt with allegations concerning a village green development has been upheld by the police watchdog.
New Milton resident John Caine complained about his treatment as an alleged victim of crime and a perceived failure to investigate.
The police commissioner has been told by the Independent Police Complaints Commission to record the complaints.
The force was also found to have not followed the Victims' Code.
It has been told to apologise to Mr Caine by the ombudsman after it found he was not informed when a new investigation was concluded without anyone being charged.
In 2009 Mr Caine opposed the development of his local village green in New Milton.
He believed his website had been shut down at the request of members of the town council after he posted negative comments.
No charges brought
Mr Caine went to Hampshire police with allegations of misconduct which he then claimed were not investigated properly.
He also alleged he had not been treated correctly under the Victims' Code, which the Police and Health Service Ombudsman upheld.
The force has been told to apologise for this breach.
The IPCC also looked into Mr Caine's claims that the force had failed to investigate, breached a High Court undertaking and had not referred issues to the IPCC, which they were required to do by law.
Hampshire's Police and Crime Commissioner Simon Hayes has been ordered to record the complaints.
No charges were brought against anyone at the New Milton Town Council following the police investigation.
In a statement, the Office of the Police and Crime Commissioner (OPCC) for Hampshire said: "These [complaints] relate to the way Hampshire Constabulary has dealt with criminal allegations dating back to 2010 and the handling of subsequent complaints made by Mr Caine.
"The act of recording a complaint is an administrative confirmation that the complaint will be handled in accordance with the relevant legislation, and makes no judgement as to the merit or the final outcome of the complaint.
"The OPCC will now be considering these complaints in accordance with the statutory guidance set out by the IPCC and we will respond to Mr Caine in due course with a resolution to the complaints he has made."