Oxfordshire Caterham F1 jobs 'to be protected'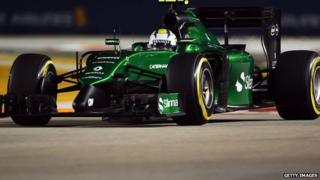 Hundreds of jobs are to be protected at Caterham Formula 1 despite bailiffs visiting its Oxfordshire base, team principal Manfredi Ravetto has said.
Items, including a 2013 F1 test car, were seized by bailiffs at the Leafield factory.
The Sheriffs Office had announced they would be auctioned later this month but has since said this had been suspended whilst court hearings take place.
Mr Ravetto insists Caterham Sports Limited is keeping up with payments.
He said he was "very proud" to be part of the team, currently taking part in the Japanese Grand Prix, adding: "We will do everything we can to protect their jobs."
'Happy and paid'
He said the company inherited a team which was "absolutely collapsing" but its debt was "far lower" than some other F1 teams.
He added this was something the firm was proud of and allowed it to continue "fighting for our priorities", including keeping the team running and employees "happy and paid".
The Sheriffs Office said a winding-up petition had been lodged against the company so the "impending sale of the goods has been suspended pending the outcome".
The team, which has not scored a point in almost four full seasons, changed ownership in July when it was sold by Malaysian entrepreneur Tony Fernandes to a consortium of Swiss and Middle Eastern investors, leading to more than 40 job losses.
Caterham currently has about 300 staff.
Its Leafield factory previously housed Super Aguri and Arrows, two former F1 teams which were forced to quit the sport because of financial problems.