Hampshire Neknominate man swallowed frog and lizard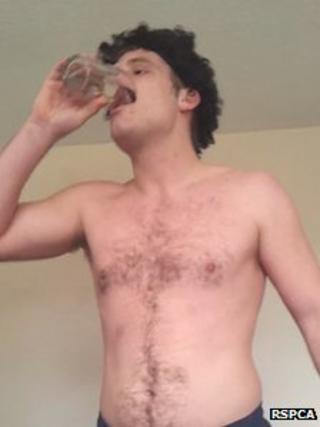 A man who was filmed swallowing a frog and lizard as part of a drinking game has been ordered to carry out 80 hours of community service.
Sheldon Jeans, 23 of Waterlooville, Hampshire posted his Neknominate footage on Facebook in February.
The RSPCA said the animals "suffered considerably".
Jeans pleaded guilty to an animal welfare offence at Portsmouth Magistrates Court and was ordered to pay £1,200 costs.
Neknominate usually involves people filming themselves "necking" an alcoholic drink, posting a video on social media and then nominating someone else to do the same.
'Stomach acids'
RSPCA inspector Alan Browning said: "Unfortunately this isn't the first case we've had involving Neknomination, but it is the first to come to court that involved animals other than fish.
"The two small animals would have suffered considerably during this incident, going through the distress of being swallowed and coming into contact with stomach acids."
Jeans, of Longwood Avenue, Cowplain, admitted causing unnecessary suffering to a frog and a lizard under the Animal Welfare Act 2006.
The social media drinking game is believed to have begun in Australia and has prompted a number of warnings over health risks.