Kiera Conlin death: Medics 'failed to refer case'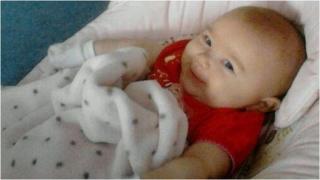 A four-month-old baby murdered by her father died after medical professionals failed to refer the case for investigation, a review has found.
A report by the Hampshire Safeguarding Children Board found medical staff had "insufficient curiosity" when they saw bruises on Kiera Conlin's face.
She died in hospital last year, where she was found to have a suffered a skull fracture and brain damage.
Her father Ross Conlin, of Farnborough, was jailed for at least 17 years.
During his trial, it was heard that after repeated abuse he shook Kiera in a flash of anger, leaving her with fatal injuries.
He was found guilty of murder and three counts of grievous bodily harm with intent in July.
After Kiera's death on 7 May last year it was discovered that she had suffered three skull fractures, brain haemorrhages, three rib fractures, and multiple bruising, in up to four separate incidents.
Pinching cheeks
A serious case review was commissioned in June 2013, after her death.
Alan Bedford, the report's independent author, concluded that the "implications of unexplained bruising to very young babies were not sufficiently understood, and led to insufficient curiosity or, on one occasion, action".
Agreed protocol was to notify social services, and for there to be a paediatric examination, he said.
The report said Kiera's mother Kelly Rayner told a nursery nurse she was embarrassed to take the child to be weighed because of the bruises. The nurse advised her to take the child to a GP but this did not happen.
Ms Rayner, who had a charge of causing or allowing Kiera's death dismissed when she went on trial alongside partner Conlin, claimed the child "got angry and pulled at her cheeks, causing bruises".
Kiera was also seen by an out-of-hours GP, the day before being admitted to Frimley Park Hospital.
Though the GP was "suspicious" about the story that the baby was "pinching her cheeks in anger", no referral was made.
'Tragic outcome'
"On that one occasion when the baby was presented to a doctor with facial bruising, it is reasonably certain that had there been an onward referral, the baby would have been admitted and not at home to have received the final injuries," the report said.
It was not until tests were carried out at Southampton General Hospital, where Kiera was transferred for specialist care, that the full extent of her injuries were revealed.
Following the report's publication, Maggie Blyth, independent chairman of the board, said lessons would be learned.
"Serious case reviews will always find areas for improvement in practice and we are confident that the partner agencies will take forward the recommendations, particularly with regard to ensuring frontline staff are clear about the implications of reported bruising on a child, especially when that child is not yet old enough to crawl or walk."
The board has recommended the policy be widely implemented amongst school governors, GPs, NHS foundation trusts, and Hampshire County Council.
Frimley Park Hospital said: "Sadly, staff at Frimley Park Hospital could not have done anything differently to change the tragic outcome in this case.
"However, we have been working with partner agencies to take on board lessons for all healthcare professionals."
A Southern Health NHS Foundation Trust spokesperson said that whilst there were no "alerting features" that would have required a response from the health visiting service, there were "two best practice recommendations that would improve the good service delivered by Southern Health".
"We have accepted those recommendations and made changes to message-taking in the trust, and improved communication between Health Visitors and GPs.
"The trust has also improved training for staff including reinforcing awareness of the bruising protocol."