High Court refuses Winchester 'blancmange' development challenge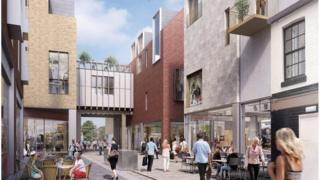 A High Court judge has refused permission for a judicial review over a development that has been criticised for looking like a "blancmange".
The action was brought against Winchester City Council by councillor Kim Gottlieb, after it agreed changes to the city's Silver Hill development.
Mr Gottlieb, a Conservative, has until 15 October to ask for the decision to be reconsidered by the High Court.
He has also been ordered to pay £7,500 costs to the council.
The city centre redevelopment includes homes, shops and public spaces.
The changes, agreed in July, included a reduction in the number of homes, from 287 to 184 and the removal of a proposed bus station.
Retail space will also be increased from 95,000 sq ft (8,830 sq m) to 148,000 sq ft (13,700 sq m).
'Undaunted'
The council said the scheme would "transform the run-down and ugly area of Winchester city centre between the bus station and Friarsgate".
But Mr Gottlieb, a chartered surveyor, set up a website opposing the plans, and said the proposals looked like a "blancmange".
The legal challenge alleged that the council should not have agreed to the changes, sought by developer Henderson.
It also questioned the value obtained by the council for the land it owned within the scheme.
The judge concluded that the development agreement allowed alterations to the scheme, and the council had taken professional advice on the value of the land.
Mr Gottlieb said the decision was "disappointing but not wholly unexpected given that it revolved around highly technical issues".
He said the Winchester Deserves Better campaign group was "undaunted" and intended to "carry on through the courts and on every other front, to put a stop to the idiocy that is the current Silver Hill proposal".