Southampton council in £40m residential road-fixing pledge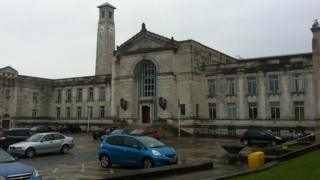 Many of Southampton's worst residential roads could be permanently resurfaced after the council's ruling group pledged to spend £40m on repairs.
City council leader Simon Letts announced the proposed funding after a survey showed fixing roads was residents' "number one priority".
Mr Letts said the ruling Labour group planned to spend £4m each year on the road fixes over 10 years.
He said funding would come from council asset sales, including buildings.
Currently, the council spends £1.3m annually on road repairs.
'Save significant money'
The plans will be voted on in February by full council when the annual budget is agreed.
Southampton City Council is made up of 28 Labour councillors, 18 Conservatives, and two from the group Councillors Against the Cuts.
Mr Letts said the council aimed to reduce the number of roads at risk of failing from the current level of 50% down to 10%.
He said: "Virtually everyone in the city should see a genuine benefit.
"This is about ordinary roads that people have their houses next to.
"What we think is that by fixing them on a permanent basis it will save significant money in terms of continually going around filling pot holes."