Isle of Wight transport services to be reviewed after MP debate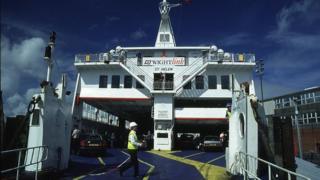 Transport on the Isle of Wight is to be reviewed after a debate in Westminster.
Conservative MP Andrew Turner won the backing of the Department for Transport for a review of services on the island.
He highlighted ferry users who were "suffering from over-inflated prices and cuts".
He said he hoped the review would lead to long-term investment and better communication between islanders, the council and transport companies.
Mr Turner hopes to form a task group with ferry firms, Isle of Wight Council and other transport companies, including Island Roads, to develop new ways of managing services.
Minister of State for Transport John Hayes said he would work with Mr Turner.
A spokeswomen for Wightlink Ferries said it had done all it could to offer the best service to users.
She added: "Wightlink's ownership structure does not influence the price of fares.
"Its current owners have invested £70m over the last six years on five new boats and significant shore side improvements, without taking a penny from Wightlink as profit."