Robert Cerqua guilty of murdering twin Christopher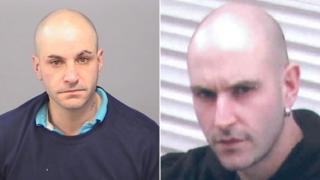 A man has been found guilty of murdering his identical twin brother in a drunken argument on New Year's Eve.
Robert Cerqua, 31, stabbed Christopher once in the stomach at the family home while their parents were upstairs.
He fled the house in Hythe, Hampshire, without his shoes and carried on drinking with his girlfriend to see in the new year at a party.
Cerqua denied murder at Winchester Crown Court and claimed he had acted in self-defence.
'He's stabbed him'
The jury returned a majority 10 to 2 guilty verdict. He will be sentenced on Tuesday.
During the trial, Robert claimed his brother had been threatening him with a knife, but the prosecution said the stabbing had happened in a fit of temper after alcohol had been consumed.
Nicholas Haggan QC, prosecuting, said: "That argument appears to have turned into a tussle, punches may have been exchanged, at some point this defendant picked up a kitchen knife and he used it to stab his brother Christopher."
He explained that DNA found on the knife matched both the defendant and his brother because, as identical twins, they shared the same DNA profile.
Robert later told police that he had a "fiery relationship" with his brother and drink could make him "nasty" and "short-tempered".
The jury was also played a recording of the 999 call made by Denise Cerqua, the twins' mother, who was in the house at the time.
At first she asked for the police because her sons were fighting but then said: "Can you get an ambulance as well? He's been stabbed."
During the call, her husband Peter can be heard shouting: "He's stabbed him."
He turned off his mobile phone but was traced by police and arrested in the early hours of New Year's Day.