Portsmouth post workers stage unofficial walk-out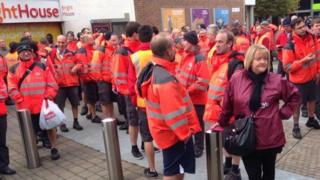 Post deliveries in Portsmouth have been disrupted by a wildcat strike by staff.
Workers taking part in the unofficial action said about 120 had walked out at 07:00 BST over the dismissal of an employee, before returning to work at 12:30.
The Slindon Street delivery office in the city centre deals with deliveries for the PO1 to PO5 postcodes.
The Royal Mail said it was "disappointed" by the action.
Following the walk out, Ruth Harrison, of the Communication Workers' Union, said employees were "charged with emotion" over the issue.
She added: "We want minimum disruption to our customers - it's really unfortunate they feel they've been put in a position to do this today."
Staff later said they would return to work after management agreed to review employee relations.
A Royal Mail spokesperson said: "Royal Mail is fully committed to the process of trying to resolve concerns of postal workers based in Portsmouth by following the national jointly agreed framework with the Communication Workers Union."