Plans for new Southampton waterside development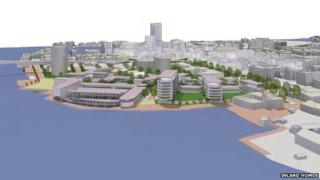 A project to develop the waterfront in Southampton has been given the go-ahead.
The Chapel Riverside redevelopment could include up to 350 new homes and marine-related commercial premises.
Southampton City Council has appointed Inland Homes to develop the 3.6 hectare former town depot site.
It is hoped the development could provide up to 7% of the authority's target of 5,000 new homes for the city by 2026.
The current proposals include several apartment buildings overlooking the water.
The sea wall will also be repaired and land will be raised to alleviate flooding.
Leader of Southampton City Council Simon Letts said the development of Chapel Riverside "will help to connect this area of the city and form the catalyst for wider development of the Itchen Riverside".
A public consultation on the initial designs is expected to take place next year and work could start on site in early 2017.