Undercliff Drive road surface 'could fail without warning'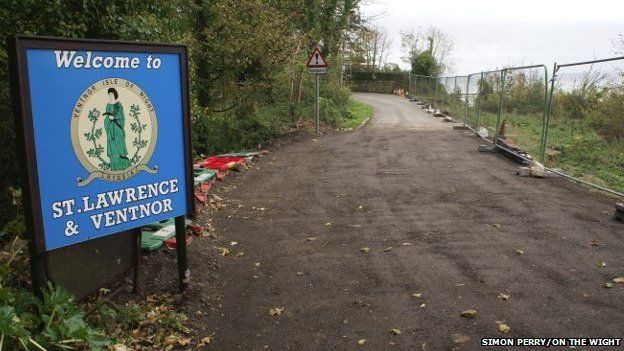 A road which was rebuilt by residents is to remain shut over fears it could "fail without warning".
People in Undercliff Drive, on the Isle of Wight, resurfaced the road which was severely damaged by a landslide in February.
Representatives from the council blocked the road off on Friday and, after a full inspection, councillors have decided it will remain shut.
There had been hopes residents could use the road at their own risk.
A technical note within the inspection report said the surface was "general building rubble" made of brick, concrete, plastic and tile.
The report said there had been a "strong odour" when the material was placed and there could be a risk of contamination of the ground and groundwater.
Councillor Phil Jordan, executive member for public protection and highways PFI, said: "If vehicles continue to use the road, there is a danger the highway could fail without warning.
"We did explore the possibility of residents agreeing to limited use of the road, but unfortunately, this is not possible as the council would continue to be liable for any serious incidents."
The council is making arrangements so that essential deliveries can be made to the properties.
Gary Smedmore, whose caravan park business was forced to close after the landslide, said he and the residents did not have a choice but to fix the road themselves.
A four-mile detour was put in place after the road was damaged. Eight families are still living in rented accommodation after being evacuated from their homes.
Last month Isle of Wight Council agreed to spend £500,000 researching a solution to repair the road, which is on a still-active landslip.
Related Internet Links
The BBC is not responsible for the content of external sites.