Portsmouth council scraps fire on Bonfire Night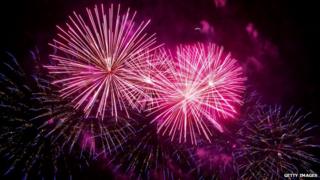 Bonfire Night celebrations will take place in Portsmouth without a traditional fire this year, after it was scrapped in budget cuts.
Portsmouth City Council's fireworks display will still take place at King George V playing fields in Cosham.
But it says £4,600 will be saved by not having a bonfire on 5 November.
Conservative councillors blamed the previous Liberal Democrat administration and said they hoped to find sponsors to reinstate it in 2015.
A Conservative minority administration has been running the authority since elections in May.
Council leader Donna Jones said: "When economic times are tough it's easy to overlook events like this, but the feel-good factor they create is not to be underestimated.
"We'd consider approaching local businesses for sponsorship and support for the bonfire next year."
'Saving money'
The free firework event, which will cost around £19,600, will be funded by the council, along with donations of £1,120 from transport company Stagecoach and local travel campaign My Journey.
A council spokesman said most of the cost of putting on a bonfire would go on security and safety measures, as well as buying 'clean' wood - which has no harmful chemicals on it - and re-seeding the grass afterwards.
Leader of the Lib Dems Councillor Gerald Vernon-Jackson said: "It was a decision that was supported by every single councillor, of all parties.
"The amount of money government has cut from council budgets over the years has been very great and we had to try to find ways of saving money to balance the books."