Virgin Atlantic trains no-experience pilots in Southampton and Phoenix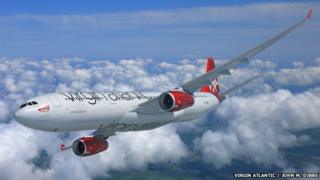 Virgin Atlantic is to accept trainee pilots with no flying experience, the airline has announced.
The firm has launched an 18-month training programme in conjunction with Southampton-based CTC Aviation.
The six chosen candidates must pay a £109,000 bond to CTC, which will be repaid to them when they start work.
Virgin said it would act as a guarantor for loans to some trainees to encourage applicants from lower income backgrounds.
A Virgin Atlantic spokeswoman said: "As this is a brand new scheme, all cases will be assessed on an individual basis.
"The airline will have some capacity to guarantee the loans if required. We're currently working towards guaranteeing the loan for all eligible applicants in the future."
The initial course of six recruits will undergo pre-flight training, flight deck simulation at CTC's Southampton centre and flight training in Phoenix, Arizona.
'Virgin family'
The £109,000 security bond is paid back to the newly qualified pilots over their first seven years flying with Virgin.
The CTC webpage on the scheme was not available on Thursday afternoon, with the company blaming "exceptionally high demand".
The course leads to the Civil Aviation Authority's multi-pilot licence and a position as a Virgin Atlantic co-pilot on Airbus A330-300 aircraft.
Virgin's flight operations general manager David Kistruck said: "They'll be part of the Virgin family from day one and will enjoy an opportunity like no other, as the only trainee pilots in Europe to fly straight on to long-haul aircraft once qualified."
Applicants are required to have a minimum of five GCSEs or equivalent including maths, science and English.
Earlier this month, Virgin Atlantic announced that from next year it would stop running Little Red, its UK flight network launched in 2013.
The flights between London Heathrow and Manchester will stop in March, while those between Heathrow and Edinburgh and Aberdeen will end in September.