Southampton cement mixer tobacco gang jailed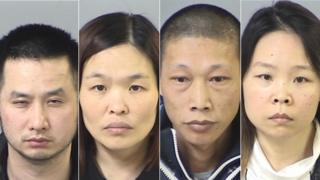 A gang who ran an illegal tobacco factory where a cement mixer was used to combine the product with schnapps and vinegar have been jailed.
Chinese nationals Tian Yang and Shu Lan Lin set up the operation at a house in Southampton in which husband and wife Hua and Yun Wang worked.
A CCTV camera, used to monitor the workers, captured tobacco being scraped off the floor and packaged for sale.
Yang and Lin were convicted of tax evasion. The Wangs admitted the charge.
Yang, 39, of Latimer Street, Southampton, was jailed for four-and-a-half years at Southampton Crown Court on four counts of being knowingly concerned in the fraudulent evasion of excise duty.
Lin, 41, also of Latimer Street, was given a reduced term of three years and nine months after the judge took into account she had given birth while awaiting trial. She was convicted of three counts of the same offence.
Hua Wang, 39, and Yun Wang, 31, both of John Street, Southampton, were both jailed for 18 months after both admitting the same charge in July.
Customs officers raided the property in John Street in April and seized enough hand-rolling tobacco to fill 60,000 standard 50g (1.8oz) pouches - worth an estimated £612,000 in unpaid excise duty and VAT.
They also found the cement mixer along with large quantities of lime cordial, vinegar, schnapps and vanilla essence used to moisten and flavour the tobacco.
In UK illegally
Yang and Lin, believed to be a couple, smuggled the raw tobacco into the UK and arranged distribution.
Hua and Yun Wang, who worked and lived at the illegal factory in the John Street house, were arrested at the property.
At the time of their arrest, Yang and Lin were on the run after skipping bail in connection with previous tobacco smuggling offences in 2011 when 1.1 tonnes was brought into the UK hidden inside insulation boards.
Judge Peter Henry said he accepted the four were not at the top of the organisation, which the court heard was suspected to have been run in Hong Kong.
The judge added: "Those at the top of the organisation have distanced themselves from the day-to-day operations and shielded themselves from arrest."
John Cooper, from Her Majesty's Revenue and Customs, said: "These criminals were producing counterfeit tobacco in totally unhygienic conditions, for sale to unsuspecting smokers.
"They were selling a cheap product, undercutting legitimate retailers who cannot compete with these unregulated sales."
All four were found to be living in the UK illegally.