Portsmouth council leader's 'Vermin' tweet blamed on 'typo'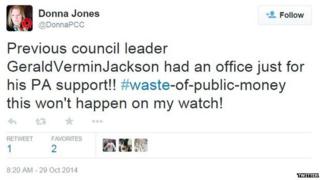 Portsmouth's council leader has insisted calling her predecessor "vermin" on Twitter was an accident.
Conservative Donna Jones referred to Lib Dem Gerald Vernon-Jackson as "GeraldVerminJackson" in a tweet during a row over office refurbishment.
Ms Jones took to social media following claims about her "flash" office costs from the Lib Dem opposition group.
She said it had been a "complete typo" and blamed her phone's auto-correct facility. She did not delete the tweet.
Mr Vernon-Jackson said the tweet was "not terribly adult".
On Wednesday the Lib Dems claimed she had spent £15,000 on office refurbishment.
Mr Vernon-Jackson said: "Council budgets are under real pressure and yet the council leader spends money on a flash new office - it's not the right thing to be doing".
Ms Jones responded that cost was £5,800 which included £1,000 for sound proofing and £836 for a door that complied with disabled access legislation.
She pointed to "Lib Dem hypocrisy", saying it was part of a maintenance programme approved by the previous administration.
A Conservative minority administration has been running the authority since elections in May.