East Meon forge plans near cricket ground blocked at High Court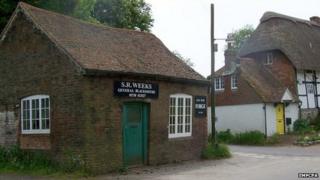 Plans to extend a village forge next to a cricket pitch have been blocked at the High Court due to "risk of injury" from flying balls during matches.
The decision was made by Mrs Justice Beverley Lang, who had queried "what are sixes and fours?" during a two-day hearing last week.
She overruled East Hampshire District Council's decision to grant permission for a flat at the site in East Meon.
The judge said occupants and visitors would be in a vulnerable position.
The judicial review ruling was a victory for East Meon Forge and Cricket Ground Protection Association (EMFCPA) which challenged the approval of a residential first-floor flat to be built over the single-storey former blacksmith's workshop.
'I don't play cricket'
During an earlier hearing, Robert Fookes, appearing for the association, told the judge that one of the grounds of objection was that the forge was very close to the square on which cricket is played.
Mr Fookes said: "Sixes and fours are frequently hit by batsmen on to forge land, including the roof of the building itself."
The judge was caught on the back foot and said: "I don't play cricket - what does that mean?"
Mr Fookes explained that sixes were scored in cricket when the ball was hit over the boundary without touching the ground, while fours "bounced along the ground" before crossing the boundary line.
Handing down her judgement earlier, Mrs Justice Lang said anyone using the flat and the decking outside would be vulnerable and the cricket club would be liable for damage to the windows.
The only access to the proposed flat was via external steps and across decking and "the occupants and visitors to the flat will be at risk of injury when entering or leaving the premises during matches".
The judge added: "In consequence, the proposed development creates unacceptable risks for its future occupants and for the cricket club."