Harvester sorry over Eastleigh disabled diner treatment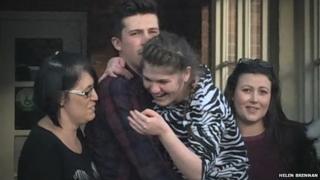 A restaurant chain has apologised after a severely disabled teenager was asked to leave one of its branches in Hampshire for making too much noise.
Megan Brennan, 19, had been enjoying a meal at a Harvester in Eastleigh but her mother Helen was told she was annoying other customers.
Mrs Brennan said she was "devastated and upset" by the treatment of her daughter.
Harvester said it had got an "extremely sensitive situation" wrong.
Megan, who has severe physical and intellectual disabilities, was being taken out by her family to mark her moving from home into full-time care.
'Poor experience'
Mrs Brennan said: "She was very excited and she was babbling quite a bit and when we were asked to leave by the manager, I was just devastated."
The family refused to leave and apologised to fellow diners.
The company said it had since discussed the matter with staff.
"Going forward we are highlighting this poor experience to our teams across the country to ensure no other guests are put in this situation again," it said in a statement.
"We spoke with the Brennan family, apologised to them directly and, we understand, resolved their complaint."
Philip Connolly, of Disability Rights UK, said "We really shouldn't be getting these kind of incidents at all.
"The bigger the brand, the less we should expect these problems because we'd expect good policies, good training, good standards and enforcement of those standards."