Immigration Street programme prompts musical protest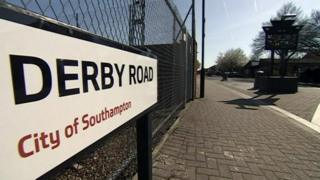 A musical event celebrating different cultures and faiths in Southampton is to be held in protest against the new Channel 4 series Immigration Street.
The show, to be aired early next year, has been filmed in the city focussing on life in Derby Road.
Students from the city's Academy of Music and Sound are hosting an event to highlight fears about how immigration will be portrayed in the programme.
Channel 4 said filming had followed strict Ofcom rules.
Paul McGeachie, from the academy in St Mary's, said the programme was causing "huge concern amongst the local community" and the event was designed for the community to "take a stand against division through fear and ignorance".
Cancellation request
The event at the Joiners Arms on 20 December will feature music from different ethnic origins and speeches from members of faith groups.
Love Productions is making the series for Channel 4 and was also responsible for Benefits Street about a street in Birmingham.
A spokeswoman for Channel 4 said: "Immigration Street does not purport to provide the definitive account of immigration in the UK - it will document life on a street in Southampton where the mix of residents has been transformed over time and continues to evolve as a result of immigration."
She added all contributors had been briefed and had given their consent to appear.
Community leaders, including members of parliament and the council, previously wrote to Channel 4 to ask for the series to be cancelled.