World War One: Southampton hall comforted soldiers before trenches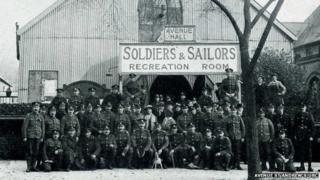 A chance discovery in a dusty church archive has revealed how volunteers in Southampton provided soldiers with their last comforts on home shores before the carnage of World War One's trenches.
Within days of war being declared in 1914, columns of soldiers were marching down The Avenue in Southampton bound for the then town's docks, one of the main embarkation points for troops crossing the English Channel to France.
Three ladies are said to have been walking along the road when they saw some forlorn-looking soldiers on Southampton Common writing letters in the pouring rain, using each other's backs to lean on.
That sight led to the posting of more than 40,000 letters written by soldiers - their last message home before they left for France.
The women were prompted to ask the nearby United Reformed Church, now known as Avenue St Andrews, to open up a hall for the men.
It began a charitable effort by the church members, volunteers, businesses and townspeople to provide shelter, food and supplies for tens of thousands of departing soldiers.
The scale of their efforts had been all-but-forgotten until a recent reorganisation of the church archive unearthed a report documenting what was provided when the hall threw open its doors.
Church member Maureen Paine said: "I get very emotional when I describe what is in this book - the work that went on was astounding. The logistics are absolutely amazing."
It records details such as a Dr Bathe being credited for donating a gallon of milk a day and Mr Knight being thanked for "stripping his fine orchard to provide the men with vast quantities of apples".
The report records: "Once a man rushed in, dumped down a bit of paper with an address on it, and said, 'Here, write to my missis.'
"'But what must I say?' asked the helper. 'Dunno, that's as you like,' and off he went. But the lady was equal to the task and sent messages of love from the husband, and a statement as to how nice he looked in his new khaki, and that he was well and happy."
---
Extracts from A Record of Five Years Work - Avenue Halls for Soldiers and Sailors
From the first, everything was provided free of charge - stationery, food and cigarettes met by donations of a generous and sympathetic public and by the troops themselves. There were added during the autumn facilities for men to wash and shave, dry their clothes…and have their laundry and mending done.
We had to trouble bakers and milkmen at 10.30 on Good Friday evening. Messrs Lowman Brothers, then as always, supplied us with whatever we needed at any hour. Without their ready cooperation we should often have failed. Every guest had a good meal and some cigarettes. They were abundantly grateful, and gave the Hall a tremendous cheer on marching off next day.
It was rather sporting to carry a tray full of filled cups high up for mounted men, and encounter a restive horse or an arm too eagerly stretched out. Many Helpers found that it made very little difference to their state of moisture whether it was raining or not!
---
With the army struggling to feed troops stationed on the Common, by the end of 1914 The Avenue Church Tea Committee rose to the logistical challenge of providing regular meals for hundreds of soldiers at a time.
Tables were put along The Avenue with portable heaters ready to allow cups of tea to be handed to soldiers marching past.
They would then drop their cups off further down The Avenue where tram drivers would pick up the cups and bring them back to the hall.
One volume of 12 visitors' books signed by 40,000 soldiers was also found in the archive - Mrs Paine has researched some of the names recorded.
"It starts in August 1915 and ends in November. There are 3,127 signatures, addresses, regiments and numbers. What an incredible record," she said.
Twin brothers James and John Gillespie from the Scottish Rifles signed the book straight after each other - her research revealed one died and one survived.
"Another entry is Lance Corporal Peter Nichol - 820 Gordon Highlanders. He died three weeks after visiting our halls," Mrs Paine continued.
"It's so poignant. I can't describe what this book represents - it's a privilege to have this."
The work done by the church was eventually recognised at the highest levels.
Clive Wigram, assistant private secretary to George V, wrote: "I am to assure you of the King's appreciation of the splendid work done in Southampton for the troops embarking for overseas."
American consul Colonel Albert Swalm also recorded his "deepest appreciation".
"[The hall] was the last English home for the multitude that used it to send a last message home before taking on the journey that led into dire battle, and for so many of them to the great test of the waiting beyond."
Of those who did survive the trenches, there are reports of their gratitude, too.
The vicar reported meeting a porter in London after the war who said: "I came into that hut two years ago, feeling bad… it was bright and warm, there was plenty of good food, and the ladies were like friends and spoke to you as if you were a gentleman.
"And what's more, I met others out there who said just the same about the place. So what I says is, Gawd bless Avenue Hall and everybody that worked there, and gave new life to us poor chaps."