Chawton House launches urgent book preservation appeal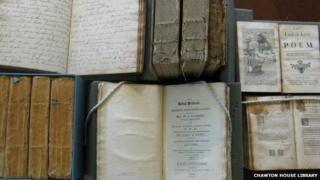 A women's rare literature library in Hampshire with works by Jane Austen and Mary Shelley has launched a book conservation appeal.
Chawton House Library has about 10,000 books of English women's writing from 1600 to 1830, but needs £60,000 to restore 75% of the collection.
Most of the money will be spent on training volunteers to make minor repairs on books.
The library said the books needed to be protected for "future generations".
'The Cruel Husband'
Books in need of repair include a second edition of Jane Austen's Sense And Sensibility and Frankenstein by Mary Shelley, as well as works by Aphra Benn and Ann Radcliffe.
The rare books at the library, near Alton, explore themes such as slavery, marriage, witchcraft and piracy, and highlight "the rich texture and innovative character of women's writing in the period," the library said.
Some books have been digitised by the library, such as The Suspicious Lovers, The Cruel Husband and The Village Coquette.
Development director Keith Arscott said three quarters of the collection needed remedial work, "from a small repair to the complete restoration of a volume".
He said the book restoration fund-raising appeal was "urgent".
"We have been highly commended as to how we keep them - but they do need money spending on them."
The library is based in the manor house that belonged to Jane Austen's brother Edward Knight in the 19th Century.
The house became a library in the 1990s with a view to showcase women writers who influenced Austen.