Rogue builder Paul Gaffney ordered to pay £70,000 compensation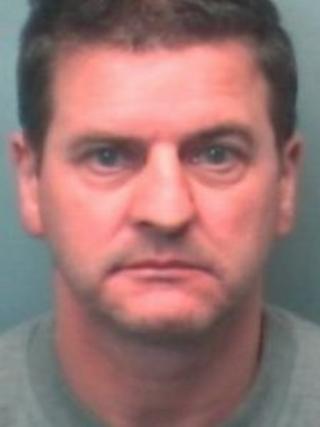 A rogue builder jailed for conning elderly people in Portsmouth, has been ordered to repay £70,000 to the customers he scammed.
Paul Gaffney, 51, from Park Grove, Portsmouth, was jailed for nine years in July after scamming customers out of more than £100,000.
He was ordered to pay compensation at a hearing at Portsmouth Crown Court.
Gaffney ripped off elderly residents around the city with "shoddy" and substandard home repairs.
He admitted 20 fraud-related offences against 17 Portsmouth residents who were conned out of a total of £105,000.
The court heard how many of those he had targeted were elderly and he bullied them over work. CCTV footage showed him taking a customer to their bank to draw out money to pay him.
Passing sentence at Portsmouth Crown Court on 30 July, Judge Sarah Munro described him as a "professional, plausible and devious conman".
A joint investigation into Gaffney's assets was carried out by Portsmouth City Council and the Crown Prosecution Service using the Proceeds of Crimes Act.
Council cabinet member for environment and community safety Robert New said he was pleased the council's trading standards officers had been able to "confiscate a substantial amount of the money for the victims, saving them the stress of individual court actions".
He added: "We continue to encourage residents to be wary of door-to-door callers and never agree to any work on the spot or allow the person into their home."