Henry Lamont Simpson's WW1 poems made into classical music piece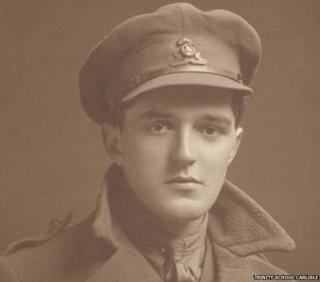 The poems of a soldier who died in World War One have been turned into a piece of classical music, entitled Remembrance Day.
Henry Lamont Simpson was killed by a sniper in No Man's Land in Belgium in 1918. His writings were published posthumously.
The piece was written by composer and Southampton professor Michael Finnissy.
Mr Finnissy said they were "much the same age as Henry when he was sent to fight in the war".
University students and professional musicians will perform the choral and orchestral piece later this month.
Simpson, from Carlisle, was an officer in the Lancashire Fusiliers. After being injured in 1917 he was taken to Southampton before being treated at a military hospital in Hursley Park, near Winchester.
He returned to the front a year later where he wrote his war poems and kept diaries. He died at 21 years old.
Mr Finnissy added: "It is fitting that young people are integral to the performance.
"This premiere gives them the chance to reflect on the horrors faced by young soldiers a century ago.
"Significantly, he laments the loss of his friends, but does not accuse or apportion blame.
"It is not the work of a general, or a war-hero, or a politician, and moves from scenes of mass volunteer-enlistment, to the horrors of the battlefield - from regret, to simple off-duty pleasures in the countryside."
The composition will be premiered at a concert at Southampton University's concert venue Turner Sims on 16 November.
It will feature the university's Hartley Singers and Sinfonia, along with members of the London Sinfonietta and Exaudi.