Hythe displays 4,000 knitted poppies for Remembrance Day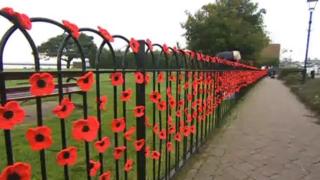 More than 4,000 poppies have been handmade and attached to railings in a Hampshire town for Remembrance Sunday.
The Waterside poppy makers had an initial goal of 250 when work started on the project for Hythe in the summer.
Helen Owers, parish development officer at Hythe & Dibden Parish Council, described the final number of poppies as "staggering".
The poppies, which have all been made from wool donated by residents, are on display at Prospect Green for a week.
Ms Owers added: "The original target of 250 was very soon smashed and a new goal set.
"Throughout the summer the poppy makers have knitted and crocheted, sometimes alone, sometimes in groups and even teaching people who have never knitted or crocheted before so that they could make a poppy."