Calmore house fire death ruled an accident by coroner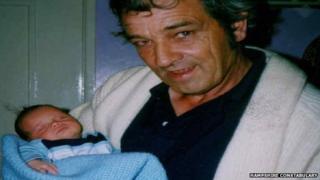 The death of a disabled man in a house fire in Calmore has been ruled an accident by a coroner.
The fire broke out at 08:10 BST on Tuesday 5 August in Yew Tree Cottage in the Drove in Calmore. No cause has been established by the fire brigade.
Brent Mason, 66, died in August in the house he had lived in with his wife for 47 years.
Other members of his family escaped the property but he was unable to move or be moved.
'Lost everything'
His wife Liz Mason said after his death: "Brent was a much loved grandfather and husband.
"Sadly, seven years ago Brent suffered a subarachnal bleed to his brain, which was followed by several other strokes.
"This deprived Brent of much of his independence and his ability to mobilise without the support of either a hoist or someone to bare his weight.
"We have lost everything we own, everything we have worked our whole lives for. We are now homeless."
She said there was very little left of the home.
A Hampshire coroner ruled that Mr Mason's death was accidental.
A spokeswoman for Hampshire Fire and Rescue Service said the investigation in to the cause of the fire was still ongoing.
Police are not treating the blaze as suspicious.