Portsmouth council services set for £13m cuts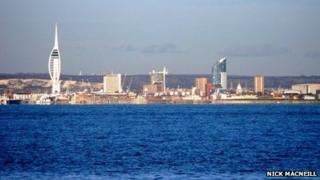 Portsmouth City Council has warned of potential job losses as it cuts £13m from its services.
Its proposals include cutting spend on women's refuge services, community centres, adult social care, and dial-a-ride during 2015/2016.
Council leader Donna Jones said "tough decisions" were necessary because the savings needed were "so significant".
But opposition leader Gerald Vernon-Jackson said he was "really worried" about a potential loss of 80 jobs.
Other announcements include a 10% rise in beach hut charges and scrapping free swimming pool provision for the over-60s.
'People deserve better'
Ms Jones, a Conservative councillor, added: "Our government funding has been cut by a third since 2010.
"We need to find £37m of savings over the next three years from the £211m budget that we control, and that's on top of the £61m the council has already saved in the last four years."
Lib Dem leader Mr Vernon-Jackson said he would work to propose an alternative budget.
"The people of the city deserve better than to have the most vulnerable people see their services slashed, and put out of jobs," he said.
The council, which is under no overall control but is being run as a minority Conservative administration, released its full proposals earlier ahead of the full council meeting due to take place on 9 December.
It said that following a budget consultation with 2,500 residents and staff, it would not cut the grants for the Kings Theatre, New Theatre Royal and Aspex Gallery.