A Day To Remember fan seriously injured in Portsmouth concert fall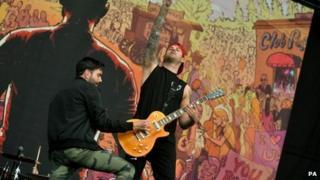 A 21-year-old man was seriously injured after falling from a balcony during a music concert in Portsmouth.
American rock band A Day To Remember had been onstage for about 30 minutes when the incident happened just after 22:00 GMT.
In a statement, Portsmouth Guildhall said the man appeared to dive off the circle, landing in the stalls.
The man was taken to Southampton General Hospital, where his condition is described as serious.
Fans at the concert said the band stopped playing immediately and it was announced the concert was over.
Following the incident, the band tweeted: "Our thoughts are with the person who was injured at the show.
"Sorry we had to cut the set short due to the circumstances."