New Forest authority loses £1.6m cycle funding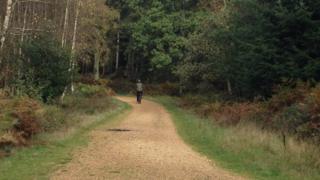 More than £1.5m in funding meant for improving cycling in the New Forest will be handed back to the government.
The New Forest National Park Authority was awarded £3.6m for cycle schemes and the Department for Transport has approved £2m worth of proposals.
Alternative plans were drawn up, including improving road surfaces, after a cycle hire scheme was rejected in August by the authority.
The remaining money will be "reallocated" elsewhere.
The projects approved by the DfT, which must be completed by September 2015, are:
£140,000 for "smoother" gravel surfaces on 15 miles (25km) of existing off-road cycle tracks
£185,000 for a 1.2-mile (2km) off-road cycle route from Marchwood to Eling
£168,000 for 1.8 miles (3km) of bridleway improvements in Fawley, Minstead and Emery Down
£30,000 for 0.3-mile (0.5km) off-road cycle track at Ringwood, part of the Castleman Way cycle route
Plans for road surface improvements and signage on Rhinefield Drive and expanding a cycle centre and improving routes in Moors Valley Country Park were rejected.
'Obviously disappointed'
A cyclist, who tweets as @ForestCyclist and did not want to be named, said: "I am very happy with the DfT decision as they have backed the smaller projects which will benefit cyclists.
"It is a bad thing that we are losing the funding but it is not a bad thing that we are losing schemes which would have no significance to cyclists.
"I would rather see it invested elsewhere."
The DfT also supported plans for a cycling centre from Cyclexperience Limited near Brockenhurst station.
Oliver Crosthwaite-Eyre, chairman of the NFNPA, said: "We're very pleased that four of the six alternative cycling projects have been approved by the DfT and that over £2m of the cycle funding will be spent locally.
"We're obviously disappointed that two of the projects were not given the go-ahead but we respect the DfT's decision."
Transport minister Robert Goodwill said: "We hope that the decision announced today will reinvigorate the New Forest programme and allow the best outcomes for the project to be achieved."