Havant's Oak Park 'care home campus' plans unveiled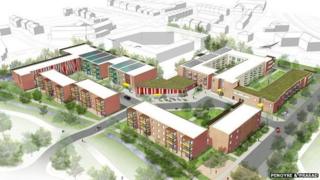 Plans have been unveiled for a £25m campus featuring a care home and assisted living flats in Hampshire.
The Oak Park "Health and Wellbeing Campus" in Havant set up by Hampshire County Council would have an 80-bed home and 100 apartments.
A central area for the whole community would feature shops, cafes, exercise areas, art and craft workshops and office space for staff.
The county council recently closed three of its care homes.
The number of people aged over 65 in Havant will increase by 17% to 31,000 by 2020, according to council projections.
Oak Park is fully owned by the county council after the purchase of part of the site from NHS Hampshire in February 2013.
Members of the public can view and discuss the plans at Havant Meeting Place in Elm Lane until 19:30 GMT.
A planning application will be submitted later this year.