Fareham man Karl Law missing on Prague stag do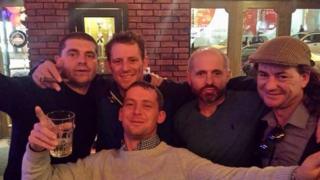 A man is missing in Prague after a stag weekend with a group of 12 other men.
Karl Law, 34, from Fareham, Hampshire, went out on the second night of the trip on Saturday but did not return to the hotel where the group was staying.
Two of his cousins are still out in the Czech capital searching for him and one said police had upgraded the case to "category one".
Mr Law works in the building trade and has a fiancée and son, Lenny, who turned three on Monday.
Steve Stock, Mr Law's cousin, was also on the stag party for their cousin Lee Cross.
He said: "We had been out drinking all day. No-one was legless.
"At about 11:30 we went to Maxim nightclub and split into two groups. We both thought that he was with the other group.
"When I got back to the hotel I thought he had just got lost, as it took him two hours to find the hotel the night before.
"At 10:30 we woke up and he still wasn't there. That's when we started searching."
Mr Law had lost his mobile phone on Friday night.
A social media campaign on Facebook and Twitter has been started to help find him.
A spokesman for the Foreign Office said: "We are aware of a British national missing in Prague and we are providing consular assistance to his family."