Southampton City Council: Public asked for views on 137 job cuts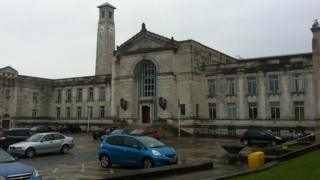 The public is being asked for their views on plans to cut 137 jobs at Southampton City Council and raise council tax to save millions of pounds.
The authority is proposing to make £9.7m of "efficiencies and service reductions" to help close an estimated budget deficit of £31m in 2015/16.
It is planning to cut 137 full-time jobs and increase council tax by 1.99%.
Council deputy leader Stephen Barnes-Andrews said government cuts left the council with "no choice".
A consultation enabling residents to comment on the draft budget plans is being launched.
The council sliced £8.1m from its costs in September and will receive a one-off funding contribution of £9.9m towards the £31m deficit.
Mr Barnes-Andrews said: "The ongoing cuts to the funding we receive from central government leave us with no choice but to find more savings. However, we remain committed to protecting vulnerable people and the city's public services."
Residents can comment on the plans by completing a budget survey on the council's website.
The consultation ends on 21 January.
Following feedback, the council will vote on the plans in February.