Call for release of Cold War frogman Buster Crabb records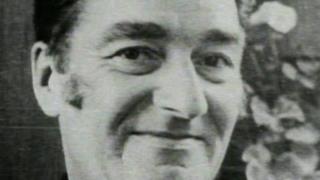 Secret case files on the mysterious death of a military diver in Portsmouth Harbour in 1956 should be released, a diving accident investigator has said.
Frogman Commander Lionel "Buster" Crabb vanished during a dive under visiting Soviet warships.
New research by Dr John Bevan suggests he died in the attempt and his body dumped in Chichester Harbour to end speculation over his mission.
The Ministry of Defence (MoD) said the files would be reviewed in 2016.
But a spokesman said they are unlikely to be released.
Unusually, case papers were classified for 100 rather than 30 years.
A former government scientist and chairman of the Historical Diving Society, Dr Bevan, said there is "no valid reason" for the ongoing secrecy.
"There'd be less fuss if they declassified it. More damage is being done to the authorities because of the secrecy," he said.
---
The Mysterious death of "Buster" Crabb
Crabb's disappearance on 19 April 1956 on the spying mission was followed by a bungled cover-up and became a huge embarrassment for British intelligence and Prime Minister Anthony Eden.
The PM had forbidden any spying on the cruiser Ordzhonikidze which brought Soviet Communist Party Leader Nikita Khrushchev to Britain on an official visit at the height of the Cold War.
Numerous theories have been put forward to explain Crabb's disappearance. Some say he was killed or captured by the Soviets.
A theory the frogman had defected gained ground when some of his associates in MI5 and MI6 turned out to be double agents. They included Sir Anthony Blunt, who was unmasked as a Soviet Spy in 1979.
---
'Deserved better'
Dr Bevan said Cdr Crabb's reputation would continue to suffer, in spite of the fact that he was awarded the George Medal and the OBE for dangerous underwater work during World War Two.
"It's a matter of rehabilitating his reputation. The great work he has done has been suppressed for too long because of this controversy over his death and the cover-up," he said.
Fourteen months after the doomed mission, a headless, handless body in a diving suit was recovered from Chichester Harbour. An inquest ruled that the body was that of Cdr Crabb.
Dr Bevan's analysis of tidal and harbour conditions led him to conclude it would have been impossible for a negatively-buoyant corpse to have made its own way there.
He said: "I want to make it known that he was a great man. He deserved a better end and better treatment by the authorities. He should have had a military funeral with full military honours."
An MoD spokesman said any information on the case not released to the National Archive is retained by the Department under Section 23 of the Freedom of Information Act (information supplied by or relating to bodies dealing with security matters).
He said: "The next scheduled review of this information in 2016 is likely to confirm that the information continue to be retained.
"As required by the Public Record Acts, the information will continue to be reviewed, and released when there is no reason to withhold it. It is not possible to say now when this may be."